Transgender Day of Visibility
Transgender Day of Visibility:
Maxime Beauregard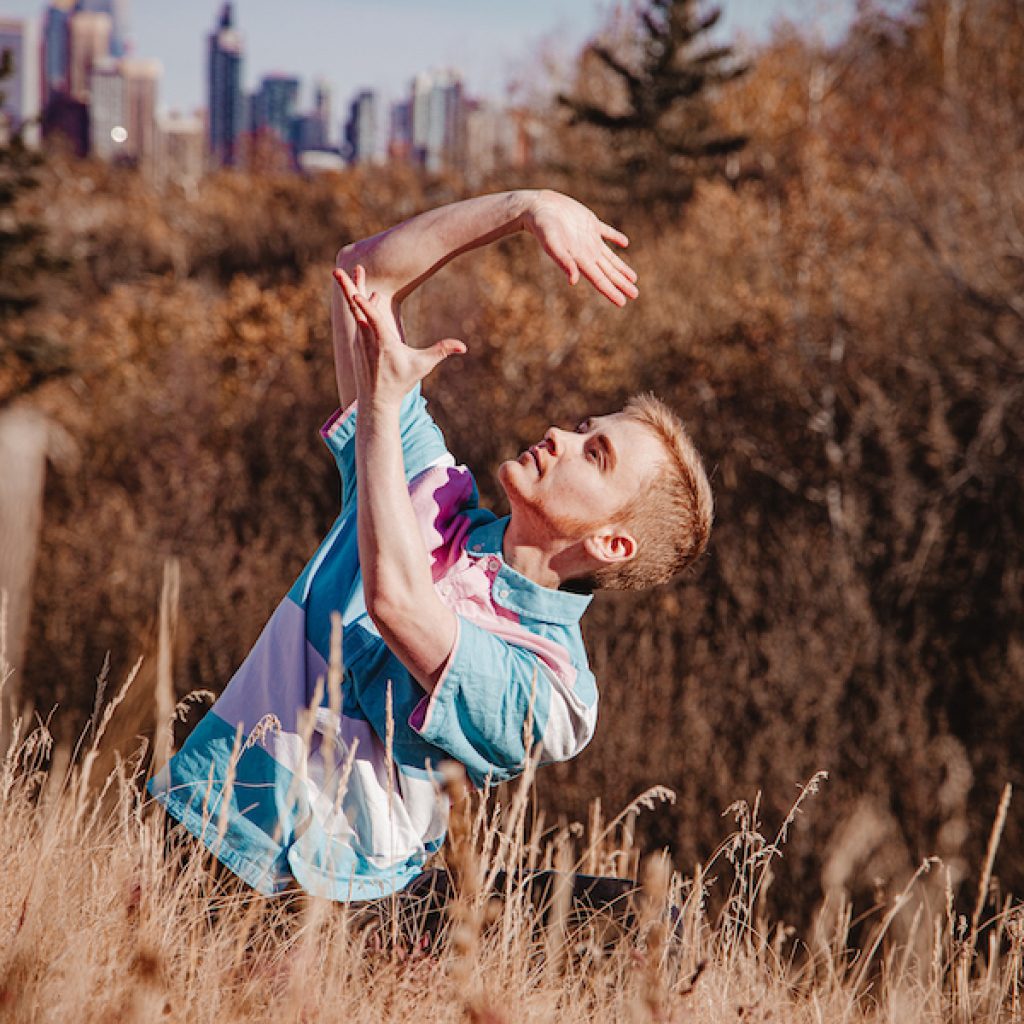 March 31, 2022
In recognition of Transgender Day of Visibility we would like to draw attention to our inspiring team member, Maxime Beauregard (they/them). Maxime is a transgender non-binary autistic person and self-describes as a multi-potential-diverse human.
The journey so far
A performing artist, arts administrator and 2SLGBTQIA+ bilingual educator, Maxime graduated from the School of Toronto Dance Theatre (TDT). Following graduation, Maxime worked on stage and/or backstage for multiple organizations. These include Banff Centre, the 2017 touring season of TDT, National accessArts Centre, Dancers' Studio West, Alliance Française, and more. Soon after, in 2019, Maxime started performing across Canada as their drag king persona Alek Ginger Bend and became a part of the cSPACE Projects team. 
Maxime has produced, consulted, and performed on multiple shows and dance short films. Performing as Alek, Maxime has so far won two Calgary competitions and has performed on multiple pride stages including Vancouver and Calgary Pride. We are sure many more accolades are in their future. 
In 2022, Maxime was awarded Canada Council for the Arts funding for choreographic research based on their transition as a transgender non-binary dancer.  Working with local artist Andy Moro, Transforma[T]ion started as a year-long process to document if and how hormonal replacement therapy would impact Maxime's dance practice. This was Phase 1. The idea was born when Moro first filmed Maxime dancing as part of the 20/20 Wavelength Project and has since expanded its vision. Phase 2 now includes a full-length performance and a short-documentary. 
An IDEA emerges
Firstly, Maxime is an amazing Facility Administrator here at cSPACE. Secondly, they have been instrumental in the development of cSPACE's IDEA Commitment. Because of all the global stressors during 2020 — the global pandemic, the Black Lives Matter movement — Maxime was inspired to do better going forward.
"It started with a need to have representation in all areas and levels of an organization. I am personally committed to actively doing better in the areas of Inclusiveness, Diversity, Equity, and Accessibility. I had a conversation with Deeter Schurig (President & CEO of cSPACE Projects) and it just really resonated with everyone on the team." 
This desire to do better grew into a commitment undertaken by the whole organization at cSPACE. During the Spring of 2021, cSPACE conducted a multi-stakeholder process to develop our IDEA (Inclusion, Diversity, Equity, Accessibility) Commitment. The cSPACE board approved the commitment on June 16th, 2021. You can read more about our formal IDEA Commitment here. 
In conclusion, Maxime is a true example of living through our cSPACE values. They are an Ambassador of Creativity, a Builder of Community, a Convener of Collaboration, and a Steward of Change. Thanks for three wonderful years on the team and hopefully many more to come.