Truth and
Reconciliation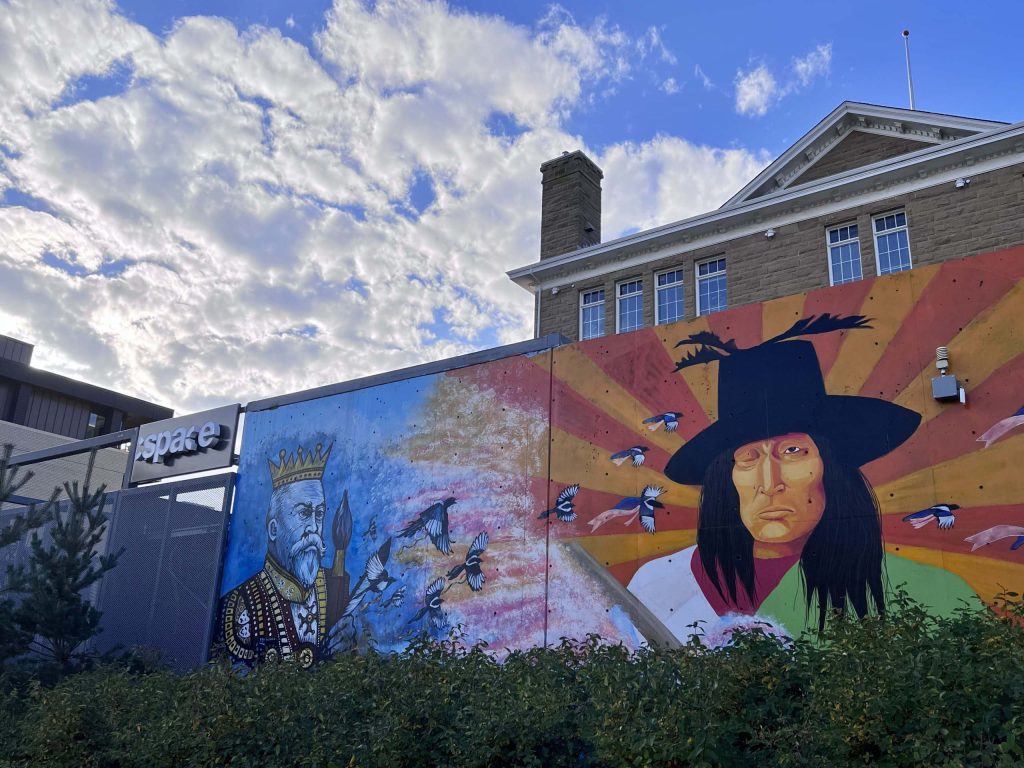 Reconciling a Former School's Colonial Namesake
September 30th is the National Day for Truth and Reconciliation.
It honours the children who never returned home and survivors of residential schools. It coincides with Orange Shirt Day, an Indigenous-led commemorative day raising awareness of the impacts of residential schools.
To honour the intentions of this day we would like to share some upcoming news and our reconciliation journey with you.
In 2011 cSPACE acquired a vacant 100-year-old sandstone public school. King Edward VII's name has been chiseled into stone above its main entrance since 1912.
Our vision was to transform the school into a welcoming creative hub. We recognized that this school has served the community for a century. It remains a prominent building. It's a testament to Calgary's sandstone era and an Edwardian landmark of a colonial history.
In imagining what this old school could become, we have tried to respect the past. We knew integrating its place-value into a vision for the next century was important.
We purposely focused on the restoration of heritage features like windows and stone. We updated mechanical systems to be the most efficient possible. We embraced sustainable advancements in technology like solar renewable energy.
We also incorporated reused elements from the building's past in creative ways. Radiators, cast-iron boilers and gym flooring have become authentic design features. Public art brings inspiration to century old halls.
With all this research, design and construction underway, we proudly named our facility cSPACE Marda Loop.
Yet in 2021 atrocities against indigenous peoples through the residential school system became increasingly evident. We now question the importance of reiterating a king's name each day. We recognize that King Edward the VII will forever remain a part of history. Yet what is the narrative we wish to write going forward?
Our journey has been gradual and considered. We are reflecting on our incremental actions towards reconciliation to inform our path forward. Alongside our friends, colleagues, and fellow citizens, we have begun to question what feels right.
In 2019 the unveiling of our Poet's Walk included the words of a poet laureate, a former teacher, alongside a land acknowledgement from Dr. Leroy Little Bear. Through his words, we are reminded that, "culture arises from the mutual relationship with the land." The inclusion of this indigeous wisdom at cSPACE felt right.
In 2020 during the pandemic we needed to connect with the community in a meaningful way. We conceived the 20/20 Wavelength Project Artist Andy Moro, a mixed blood artist, brought diverse voices together. In 2021, the tying of orange ribbons at cSPACE connected the community on the 1st National Day of Truth and Reconciliation. This too, felt appropriate.
In 2020 a committee was formed with staff, board, tenants and community stakeholders to help define our cSPACE IDEA Commitment new board recruitment policy was then developed showing our incremental momentum towards organizational change.
In 2021, we commissioned artist Nathan Meguinis from Tsuut'ina Nation to collaborate with artist Doug Driediger and the BUMP festival. They worked together to finish a mural depicting Chief Bullhead, a signatory to Treaty 7 in dialogue with a colonial King. The artwork entitled, "We Are All Treaty People" is a provocative act of artful reconciliation.
In 2022, our efforts have continued. Over the past year, we have quietly considered that renaming our creative hub is necessary. We recognize the need to intentionally reduce barriers that come in many manifestations. We are committed to leaving a school's colonial namesake behind, and moving towards a narrative that is in alignment with our community values.
The vision for our creative hub is for an inclusive space where all in our community feel welcome. Our cSPACE creative hub in Marda Loop will soon have a new name. Look for updates coming soon.
— Deeter Schurig, President and CEO of cSPACE Projects
Pictured: Detail of magpies, and full mural from We Are All Treaty People (Nathan P. Meguinis and Doug Driediger.)