It's a wrap!
2021 Creative Incubator Initiative
2021 Creative Incubator Initiative wraps up with a documentary screening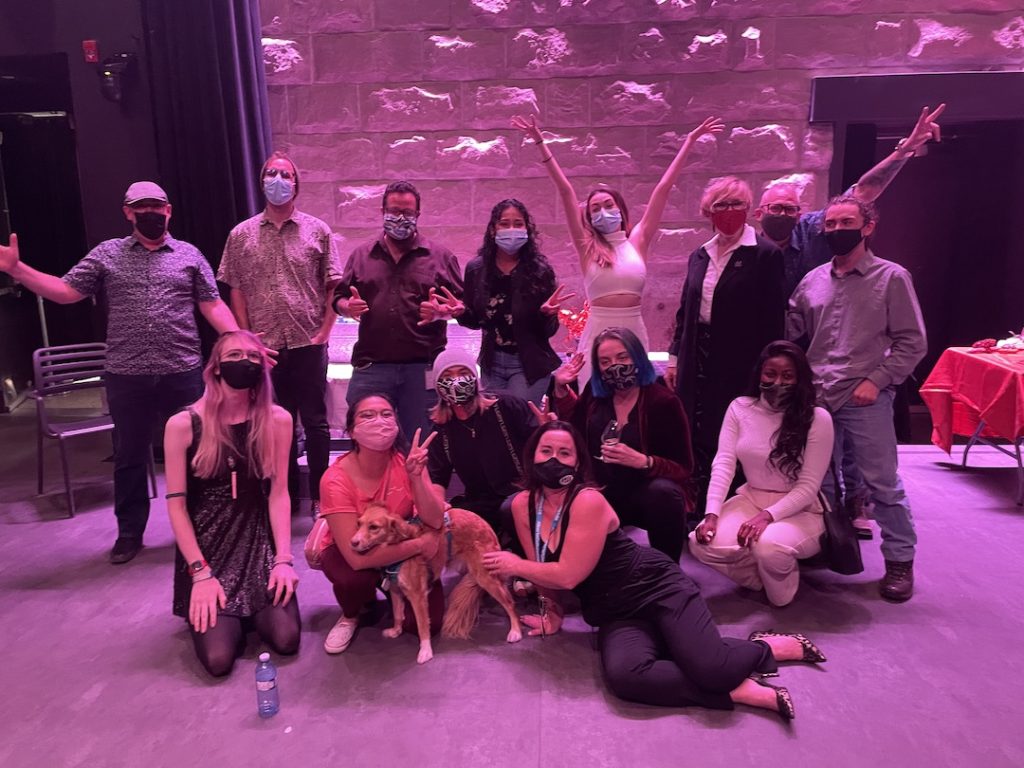 On September 24th we were able to bring this year's Incubator artists together at long last. The changing circumstances of the global pandemic meant that more restrictions were imposed during the Incubator than anticipated. While the artists met each other and collaborated via Zoom sessions, for the most part they worked alone or with only their dedicated filmmaker in attendance.
Newly instituted vaccine passport policies provided an opportunity to bring this talented group of individuals into the same space at last. Friendships forged online flourished in real life during a screening of the 11 short artist documentary films created over the course of this five-week program.
We invite you to get acquainted with the incredible artists of the Incubator and learn more of their stories. Over the next while, we will take you through each artist's individual journey. Take a moment now and enjoy this brief introduction.
<iframe src="https://player.vimeo.com/video/613844030?h=855d01cffe&dnt=1&app_id=122963" width="1140" height="641" frameborder="0" allow="autoplay; fullscreen; picture-in-picture" allowfullscreen></iframe>
More about the Creative Incubator Initiative
This five-week program supported 11 local artists from diverse artistic disciplines, backgrounds and career stages. Painters, dancers, musicians, and multidisciplinary performers participated in the inaugural Creative Incubator Initiative. The program provided artists with inspiring space, connection to creative community, and entrepreneurial learnings to expand their artistic development during the pandemic.
"We are delighted to support local artists in this difficult time. In providing access to inspiring creative space and peer learning within our cSPACE Creative Hub community, our hope is to enable artists' imaginations to take flight. We want artists to experiment and expand their creative practice despite the limitations of the pandemic."
– Deeter Schurig, President & CEO of cSPACE
Artists gained access to our Studio Theatre and received  support from theatre technicians to realize their ideas. The projects and artistic practice of these artists was captured by professional filmmakers, showcasing the story of their re-emergence out of COVID.The artists were also provided learning in marketing and branding, knowledge sharing within their cohort, and connections to the cSPACE artistic community through performance and exhibition opportunities.
Photos from the documentary screening on September 24
Selected by an independent external jury, 11 artists-in-residence were selected for the Creative Incubator Initiative at cSPACE. The Incubator provided artists impacted by the pandemic with the opportunity to return to their artistic practice in the creative facilities and Studio Theatre at cSPACE.The cohort, selected in March 2021 by an independent jury, included:
Mackenzie Bedford, illustrator, animator and projection specialist
Léda Davies, circus performer
Savanna Harvey, interdisciplinary artist
Gladzy Kei, cosplay artist and illustrator
Jennifer Lee, visual artist
Jocelyn Mah, dancer
Harvey Nichol, painter and graphic artist
Meg Ohsada, dancer
Ross Pambrun, aka Memphis and the Grande, musical artist
Lana Skauge, storyteller
James Watson, violinist
The Incubator Initiative could not have been successful without the additional support of cSPACE staff, technicians, and the following professional development coaches and filmmakers. Special thanks goes out to:
Misha Maseka, filmmaker
Ximena Ríos, filmmaker
Ryan Wilkes, filmmaker
Branden Boyd, theatre technician
Tauran Wood, theatre technician
Erin Maclean-Berko, program coordinator
Michael Dargie, branding and marketing advisor
Christina Jahn, creative inquiry advisor
Finally, cSPACE is grateful to the financial support of the Calgary Foundation in making this Initiative possible.