c_GRATITUDE

c_GRATITUDE
cSPACE exists to develop creative places – supporting the success of our local creative entrepreneurs while activating vibrant community-building. As we head into the holidays and a brand new year please celebrate some of the highlights from 2021 with us.
Inspiring creative space for Calgary's arts and culture ecosystem
Alberta Craft Gallery, The Farmers and Makers Market, Cecile Albi, Matt Bodner (Stonemason) and others were all active participants in our community this year.
Vibrant community and impactful placemaking
A collaboration on a new mural put artists at the centre of our much needed reconciliation journey. The Trailings installation was a source of delight for all who passed through it (courtesy of the City of Calgary's Public Art program)
The 20/20 Wavelength Project connected us as a community and culminated with public artworks and a live broadcast event, led by local artist Andy Moro
The Farmers and Makers Market brought local businesses, artists and performers into the community. We look forward to more Music at the Market and Beer Gardens next summer
Thanks to the Beltline Urban Mural Project, Nathan p. Meguinis, and Doug Driediger for this incredible reimagined artwork.

Artists Alia Shahab and Michel Gignac installing the Trailings exhibition.
Conditions for creative entrepreneurs to thrive
The

Creative Incubator Initiative

gave 11 artists,  3 filmmakers, and 3 theatre technicians, plus community jurors and subject experts the opportunity for peer-learning, digital branding and creative practice development

Workshops on anti-oppression and our IDEA Commitment (Inclusion, Diversity, Equity and Accessibility) has grown our capacity to be a more safe and welcoming space for all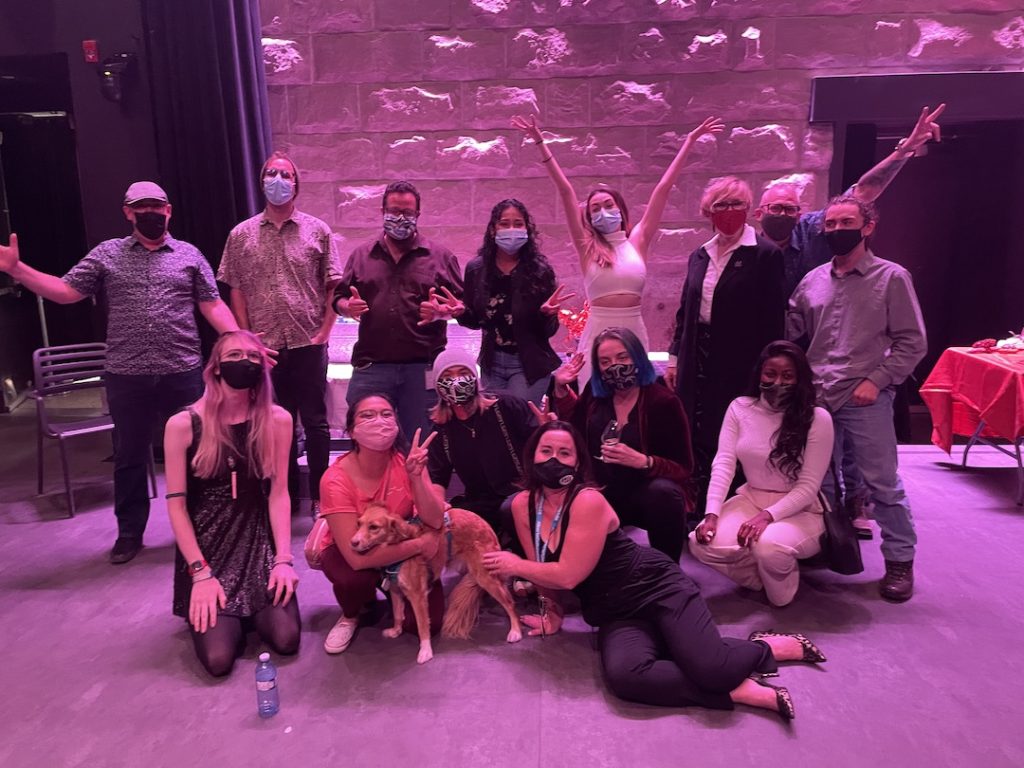 In this difficult time it's clear that our place-based purpose remains as critical as ever. Continuing into 2022, we'll all need to be creative and collaborate, overcome barriers that prevent us from connecting, and be leaders that enable opportunities that come with positive community-led change.

Thanks for supporting amazing creatives who continue to inspire us especially when our world needs it most. 2021 has reminded us how critical adaptive communities are – how together in cooperation and concert together – we are stronger!

Wishing you the best from the entire cSPACE Team!

-Deeter Schurig
President and CEO, cSPACE Projects
P.S We're so grateful for the generous support this year from our individual donors, sponsors and partners!
Calgary Arts Development and Calgary Foundation
The City of Calgary, Province of Alberta, and Government of Canada
Canadian Heritage / Patrimoine Canadien
Alberta Culture and Status of Women
Sponsors:
Valard Construction, Lemay, The Edward, Rockwood Custom Homes, Kal Tire Replay Fund, OBAD, Alliance Française, Uncommon Cider, Skunkworks Distillery, Blindman Brewing
Partners:
National Access Arts, BUMP, Earth Market Society, Altadore Dental

Photo above: 20/20 Wavelength Project installation. Steel cut owl designed by Andy Moro.
Main photo at left. Incubator team members, clockwise from top left: Jocelyn Mah, Mackenzie Bedford, Lana Skauge, and Tauran Wood.